Sherri Miles-Foley, President Miles Roofing represents the fourth generation of Miles leadership. Sherri took her college degree from Georgetown University and worked with a law firm in Northern Virginia for two years prior to entering the roofing business. Sherri worked for Georgia's "Family Business of the Year", L. E. Schwartz & Son, Inc. of Macon for several months, prior to growing into her current position.
Sherri serves on many Community boards including:

Junior Achievement, CHKD Health Foundation, Virginia Aquarium, Old Point National Bank Advisory, and the Builders and Contractors Exchange. She is currently on the Executive Board of the National Roofing Contractors Association (NRCA) and is past president of the Virginia Association of Roofing Professionals (VARP). She was awarded Contractor of the year in 1999 and in 2018 by VARP.
Sherri's desire to elevate Careers and Technical Education (CTE) finds a home on NRCA's pro-certification committee and VARP's workforce development Committee. She has helped design curriculum, training and testing aiding in advancements for careers in roofing and construction.

Another main focus of Sherri's is success is Family Businesses. She is in the 2019-2020 Next Generation Leadership Institute (NGLI) Class at the Family Business Center, Quinlan Business School, University of Loyola Chicago. Using her experience at Miles Roofing Inc., she enjoys consulting and helping various family businesses succeed into the next generation of family leadership.
Virginia Class A Building Endorsement
HIC – Home Improvement
CIC – Commercial Improvement
Secure a No-Obligation Assessment Time
Quick Estimates Provided Free of Charge. We will come out on your schedule.
About
Miles Roofing Inc.
​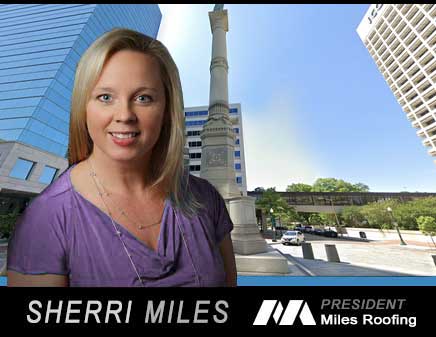 We are proud members of the first national all women-owned commercial and industrial roofing companies. Sherri Miles-Foley is also a founding member.
Nationwide
Roofing Network​
Sherri often writes articles and leads presentation on CTE, Success in Family Business, and advocates for diversity and inclusion in roofing and construction. She is passionate about finding and making pathways for women in business and women in roofing.
Miles Roofing is a proud woman-owned business that is SWAM Certified #667957, WBENC Certified #20391020, and holds a Virginia Class A Contractor License #2705046150.
​
24/7 Emergency Services Available​